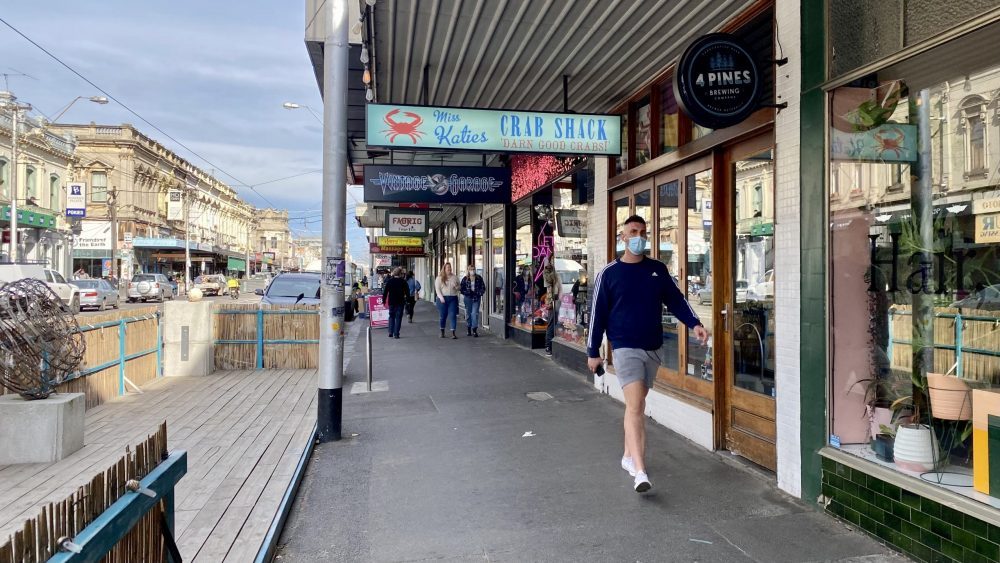 We have been enjoying spending time in Fitzroy and Collingwood for while now. Smith Street at the heart of these two vibrant suburbs was recently crowned coolest street in the world by 27000 voters in a survey by local guide TimeOut. What makes Smith Street so special? We think it's the great boutique shops, bars and restaurants and the relaxed vibe that the local community brings to this strip. Keep reading for the best places to eat, drink, shop and more… in Smith Street. 
Eat in Smith Street
Whether it is breakfast, lunch, dinner, or simply a coffee or a snack. The options are endless in Smith Street.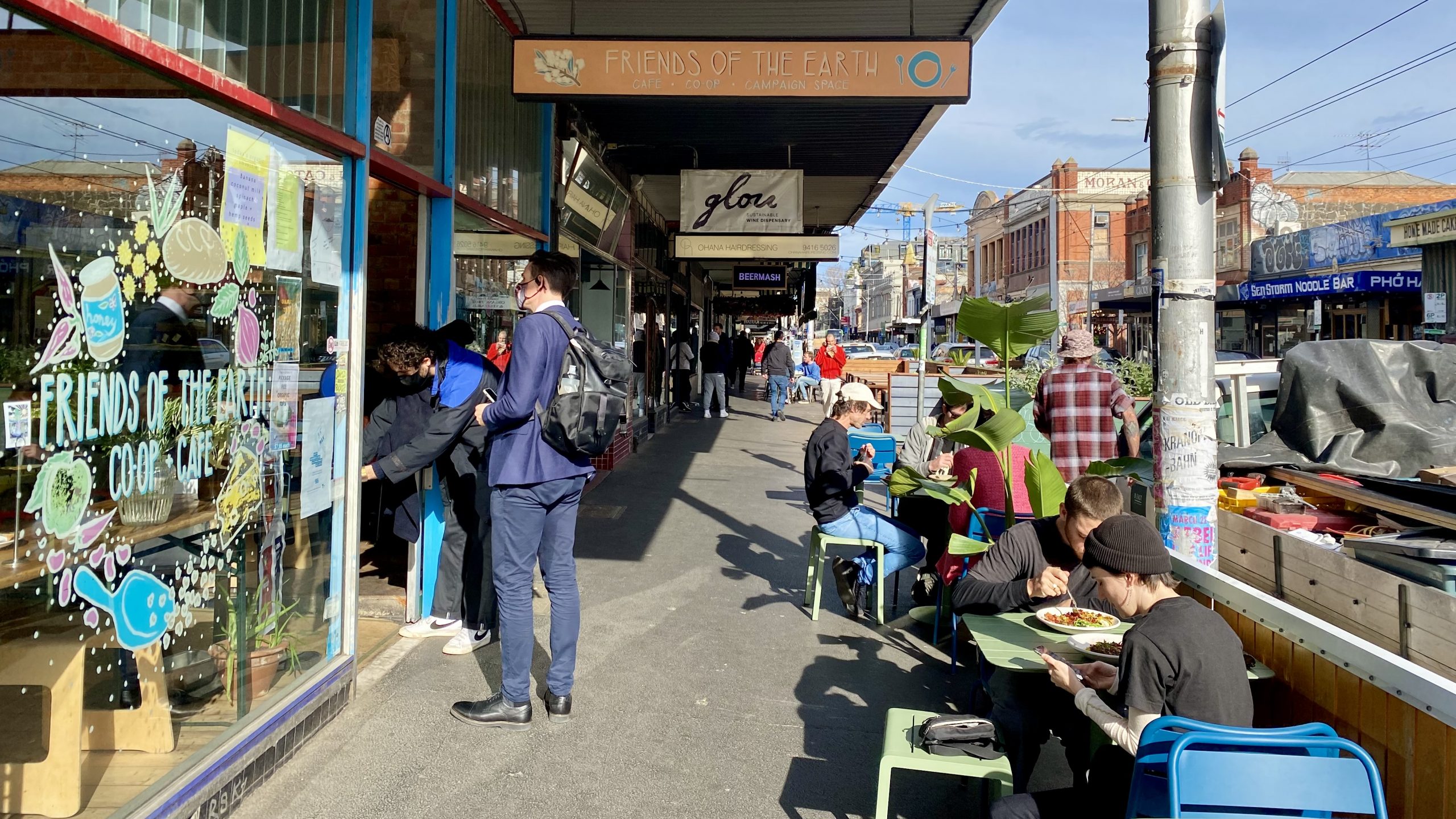 Located on the Collingwood side of Smith Street, Friends of the Earth (312 Smith Street Collingwood) is a vegan organic cafe and food co-op, appealing to locals who shop for fresh, vegan and healthy groceries. Focussed on local, ethically sourced products, Friends of the Earth provides a bright atmosphere for sustainable shopping and dining.
Smith Street Alimentari (302-304 Smith Street Collingwood) is a Italian influenced cafe and food store, offering quality take-home meals, pantry staples and dining options. Accommodating seating inside the restaurant and courtyard which includes an open fire, Alimentari cafe presents a cosy European small town feel.
Fitting into the traditional Fitzroy culture, Pavlov's Duck (401 Smith Street Fitzroy) is housed in an industrial space. Customers are spoiled for breakfast, brunch or lunch with a Sri-Lankan inspired menu and single origin espresso.
Located inside United Co. (425 Smith Street Fitzroy) is 8 Grains Feedstore or 8G in short. In true Melbourne style, this cafe is a little bit hidden. Once you enter the cafe via United Co's reception area, you find a selection of fresh and healthy meals, Dukes specialty coffee as well as a selection of sweets, pastries and artisan grocery items. The cafe and specialty store provides a cosy atmosphere to meet and catch up but is also a great destination for a quick take-away meal. 
A Vietnamese roll is a quick, delicious and budget-friendly lunch, always in favour with the working crowd. Trang Bakery and Cafe (382 Smith Street Collingwood) is popular for their quality vietnamese roll with great succulent meats as well as vegan options. Be prepared to get in line for these mouth-watering rolls.
Founded in 2011, Huxtaburger  (106 Smith Street Fitzroy) aims to inspire locals with their passion for flavour. A popular joint with the locals, offering customers an extensive selection of unique burgers that amazes every time you visit!
Who doesn't love a plate of homemade pasta?! Pasta Classica (352 Smith Street Collingwood)
has been serving artisan pasta to the local crowd for as long as we can remember. The award winning restaurant offers options for both take-away and to dine in. The environment is inviting and warm, producing food that is both budget friendly and of exceptional Italian quality. If you feel like cooking your own gourmet plate of pasta, Pasta Classica sells fresh pasta to help you take your home cooking game to the next level. 
Known for their flavoursome, Mexican cuisine, Hotel Jesus (174 Smith Street Collingwood) transports customers to a 70's Mexican taqueria through their restaurant design and menu options. The Burritos are the most popular item on the menu. Some say they are the best burritos in Melbourne. Best enjoyed with a refreshing margarita.
Are you looking for a high-end dining experience in an edgy Collingwood style? IDES (92 Smith Street Collingwood) is the place to be. The innovative menu displays the chef's passion and is paired with an extensive selection of wine, 
On a bright sunny day nothing beats walking down the street to Gelato Messina (237 Smith Street Fitzroy) with so many classic flavours as well as weekly specials there is always something new to try. 
Pubs and Bars in Collingwood
For a long time, Smith Street has been overshadowed by Fitzroy's Brunswick Street. However the Pubs and Bars in Smith Street are well worth a visit. 
The Grace Darling Hotel (114 Smith Street Collingwood), an elaborate 19th century pub is known for its eccentricities regarding the character-filled and inviting appeal to customers. As the second-oldest pub in Melbourne, it is regularly filled with locals, sharing their stories and deriving pleasure from the music played by local bands and performers. 
Built in 1859, the Robert Burns Hotel (376 Smith Street Collingwood) is a traditional Collingwood institution. The bar menu has a variety of quality pub food and local beers whilst the restaurant section in the back offers a tapas menu and a more relaxed atmosphere.
If you like board games and beer, Beermash (306 Smith Street Collingwood) is perfect for you. Beermash is a well known spot in Collingwood, recognised for the 22 rotating beer taps available in store. Tours are given, describing the variation of beers and allow customers to taste samples if unsure. Each table also has a board game, which entertains both individuals and groups.
Smithward (48 Smith Street Collingwood) is an intimate bar, catering to specialised Victorian wines. The menu is appreciated with its attentive food designs and recipes and makes it the perfect spot to spend for a winter's night. 
Shopping in Smith Street
Smith Street is the perfect destination for boutique shopping.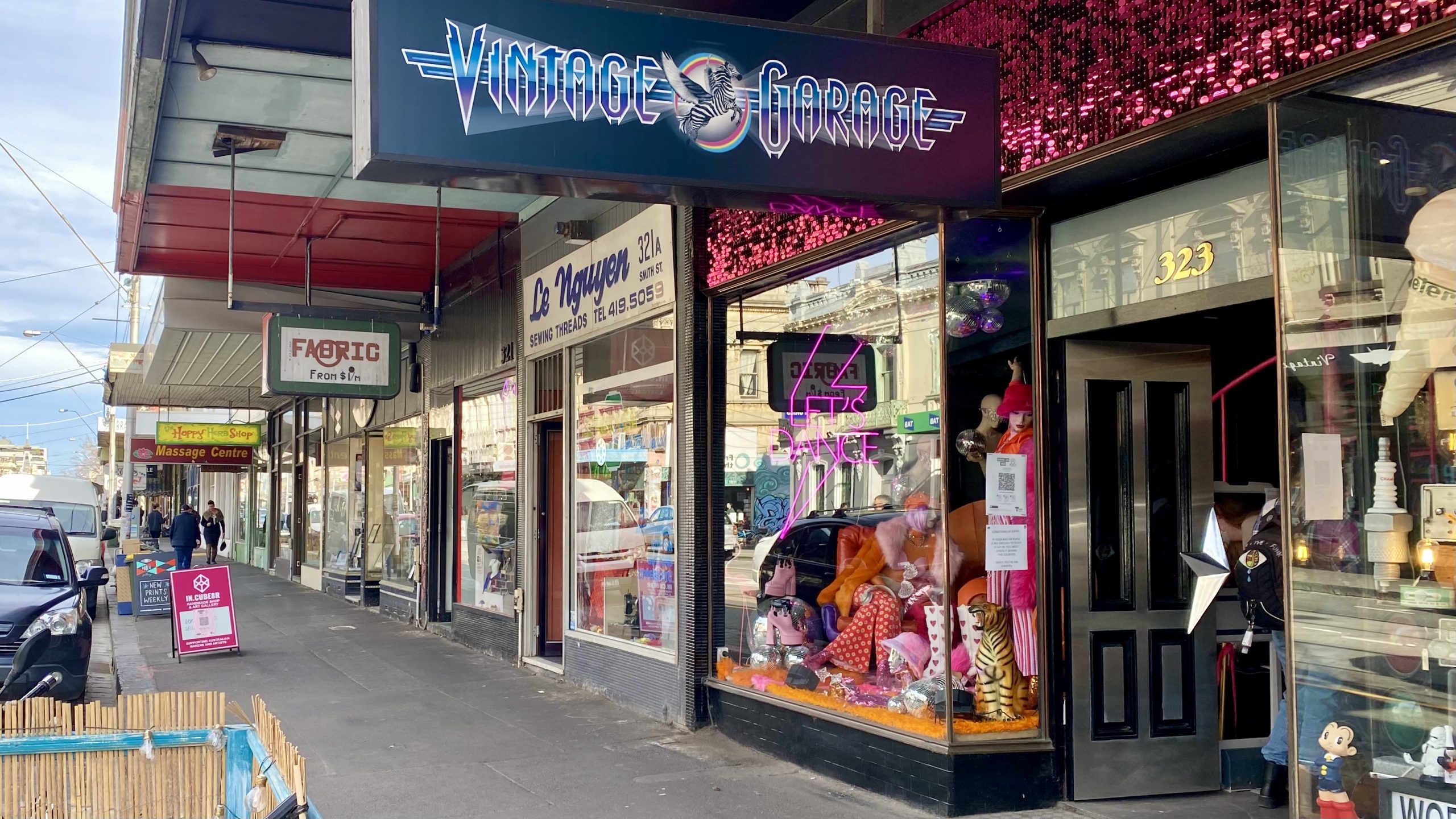 At Vintage Garage (318 Smith Street Collingwood) you can discover a vast selection of vintage clothing and memorabilia. Known as the local 'go to' for rare and fabulous pieces, Vintage Garage displays Melbourne's iconic quirky, funky and edgy fashion in one store with reasonable prices.
Happy Valley (294 Smith Street Collingwood) provides affordable design, books, vinyl and art that is certain to blow your mind! The range of rare products is extensive, stocking eclectic gifts from around the world and unique artefacts that you didn't even know you needed. 
If you enjoy spices from around the world, you have to shop at Sonsa Markets (216-218 Smith Street Collingwood). Stocked with a diverse range of produce and rare ingredients and spices sourced from Asia, Africa, Mediterranean & the Middle East, this independant grocer will fulfill all your culinary needs. 
Meatsmith (273 Smith Street Collingwood) is not your typical butcher. Whether you discover the quality meats or exceptional cooking advice, purchasing meat from this store is an experience. The staff at Meatsmith will not only provide you with ingredients, but will help you with recipes to create your special dish. 
Smith Street Bazaar (305-307 Smith Street Fitzroy) establishes a vintage collection of designer furniture, bringing together 12 designers. Quality furnished items kept in immaculate condition are displayed around the store, worth a visit if you appreciate both classic and cool retro furniture pieces. 
Neel Dey Furniture (386 Smith Street Collingwood) specialises in eco-friendly custom furniture pieces. All items are crafted from recycled timber by a team of local artists providing unique designs. 
Displaying a variety of statement pieces, vintage furniture and stylistic homewares Nook Vintage (378 Smith Street Collingwood) holds a special place in local hearts due to the warm and inviting atmosphere the staff creates.
Hosting exhibitions featuring both local and international artists Outre Gallery (319 Smith Street Fitzroy) specialises in new contemporary, international pop and underground art. 
Exercise
There is no better start or end to the day than a good workout session. 
Appreciated among the locals, Project Better (436 Smith Street Collingwood) is known as one of the best community gyms due to their hygienic equipment and approval of dogs. The gym includes sauna and ice bath facilities that are open 24/7. 
Move Plus Connect (337 Smith Street Fitzroy) valued as one of the best pilates studios, members feel a unified sense of both community and professionalism when attending the motivating sessions. 
Work in Smith Street
Smith Street is not only a cool place to eat, drink and shop but also a great place to work. Whether you are looking to mix up work-from-home life with a collaborative coworking space or need to set up an office for a team, United Co. can help you out.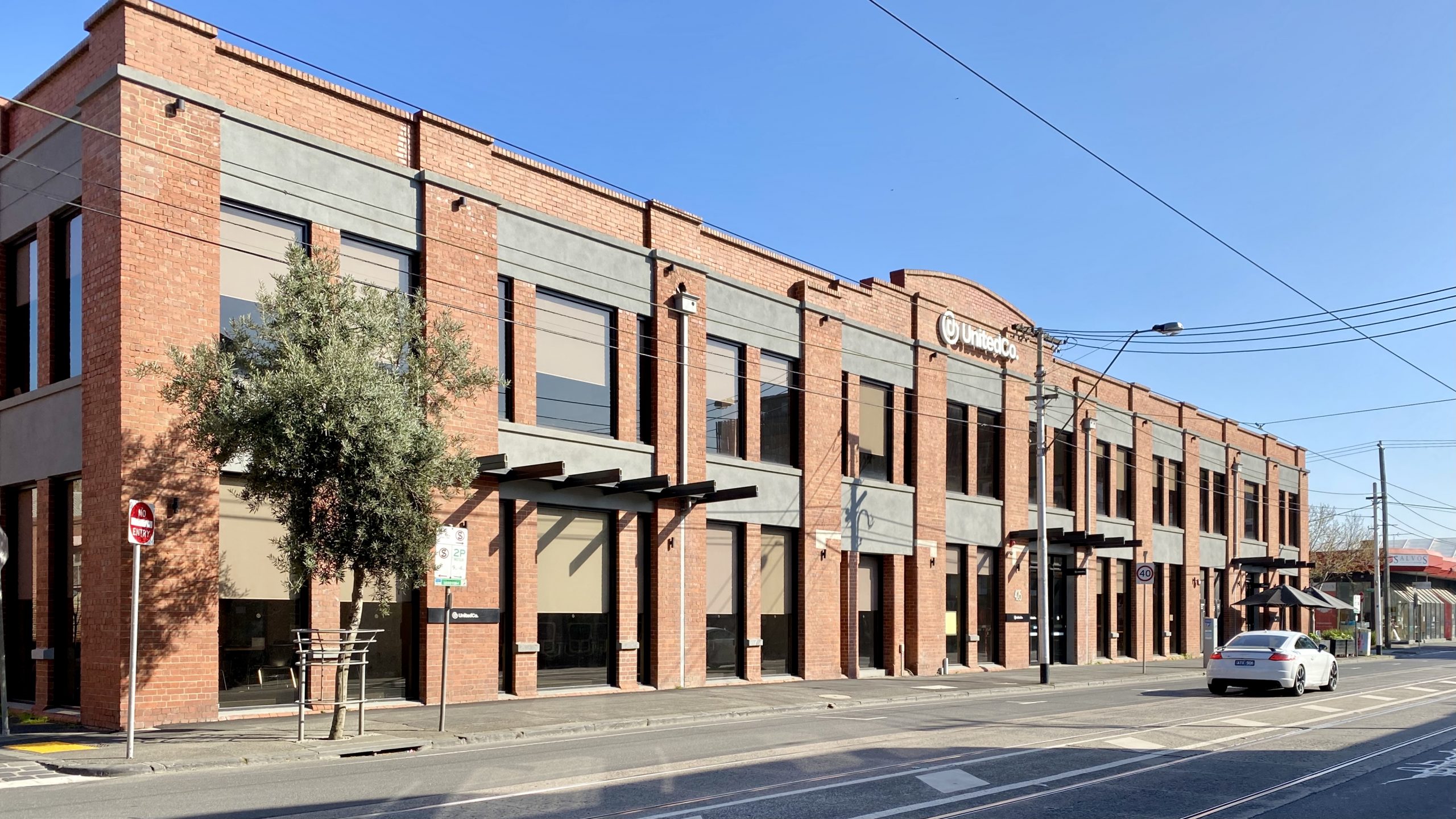 United Co. is located at 425 Smith Street Fitzroy and offers a range of solutions to help businesses thrive from Coworking to short or longer term Office Space, to Meeting Rooms and corporate Venue Hire.
You do not actually have to come into the office to enjoy the perks of United Co. A Virtual Office Membership allows you to get a Business Address in the coolest street in the world while you comfortably run your business from home. 
READ MORE 7 reason to work in Fitzroy
Getting to Smith Street
Fitzroy and Collingwood are very easy to get around pedestrian and bicycle friendly suburbs. If you are visiting from elsewhere in Melbourne, tram 86 takes you from Parliament Station to Smith Street in under 10 minutes. Alternatively Victoria Park train station is just a short stroll from Smith Street. If you are arriving by car, simply exit the M3 at Alexandra Parade and turn onto Smith Street. 
Like to know more about United Co?