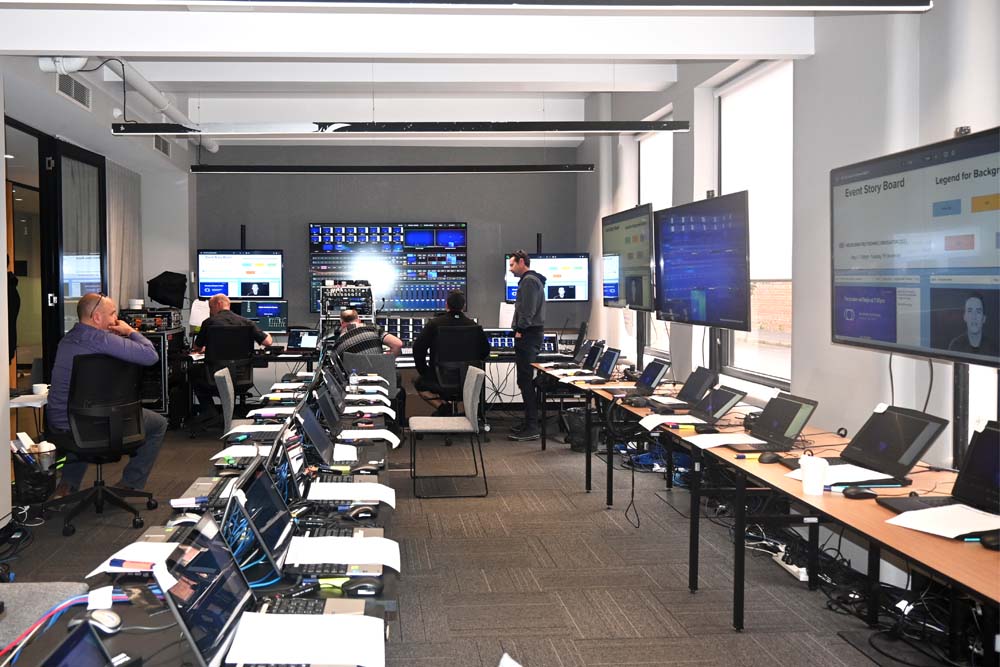 By making your next event a Hybrid Event, you can increase your audience multiple times and make a bigger impact. Audiences prefer Hybrid Events over Virtual. The virtual audience will get to experience the atmosphere in the room and feel part of the audience attending the physical event no matter where they are in the world. The experience is more engaging compared to a Virtual Event with switching screens and speakers sitting in different places.
Despite common belief, hybrid events are more engaging and easier to host. Keep reading to learn how to organise your next hybrid event in Melbourne.
Why Hybrid Events?
The corporate world is beginning to transition 'back to the office' and businesses are organising physical events again. Businesses are taking their learnings from the last 2 years of remote working. Hybrid meetings, events, training and collaboration sessions have rapidly become the norm.
The biggest advantage of hybrid events is the ability to curate your audience.  In an open hybrid event anyone, no matter their physical location, can view, participate and interact. Open hybrid events can be advertised on event websites, social media platforms and discussion groups. In order to attract like-minded people, you can selectively share the event information in professional groups and on websites relevant to your target audience.
If your event is a product launch, training, team building or another type of event with a closed audience, you are able to restrict event participation and send event invitations to a select audience.
Advantages of Hybrid Events for Organisers
It is now easier to virtually connect and participate than ever before. Event organisers can benefit from this development by making their events hybrid.
Cost-Effectiveness
If you are working with a limited budget, scaling down in-person attendance and extending your audience virtually will help you save on operational costs without compromising the reach of your event. You will be able to hire a smaller venue and run your event with a smaller crew. No longer do you have to host mega-events in order to reach a large audience.
More and more people are now acquainted with virtual meetings, seminars, panel discussions and product presentations. The number of people who will be able to attend virtually is almost endless and not limited by geographical and travel restrictions.
Letting some of your speakers present and attend virtually means you will be able to save time, travel costs and other expenses.
Unforeseen Circumstances
Fewer people means fewer unforeseen circumstances. This makes your event easier to organise and manage on the day. Even if a participant or speaker is suddenly unable to attend the event in-person, they may still be able to attend virtually.
Sponsorship Opportunities
Event organisers can leverage the greater reach of their hybrid event to secure sponsorships. Sponsorship packages can be tailored to suit the audience or the requirements of the sponsor. With many virtual and hybrid events streamed on social media such as Facebook, Instagram and YouTube, the impact of your event as well the advertising is long-lasting.
How to organise a Hybrid Event in Melbourne
Engagement is the core ingredient of a hybrid event. Engagement differentiates hybrid events from a vlog or an educational video on YouTube. The direction and content of a hybrid event are dependent upon audience engagement. Seamless integration of technology plays the most important part in any hybrid event and brings your live and virtual audience together.
United Co. offers training rooms, boardrooms and meeting rooms for hybrid events. Our conference rooms are equipped with advanced plug-and-play video conferencing technology that is easy to use.
For larger functions, you can book the event space, which can host up to 120 guests. This space is set up with a stage. Use of the 9-panel video wall and built-in AV system is complimentary. Our team can help you organise the right equipment to connect you to your virtual audience. A high-speed internet connection will ensure your event will go down without a hitch. Our space is conveniently located on Smith Street, Fitzroy in close proximity to Melbourne CBD, Collingwood, Richmond and Carlton. You can easily reach us by public transport, bicycle or car.
To get started, contact our hybrid event specialist to discuss your next event. We will assist you with the selection of the right room and connect you with our tech team.
Case Studies
Hackherthon – International Women's Day
4 – 6 March 2022 Hybrid Hackathon
As the name of the event suggests – this hybrid event is in sync with the theme of 'International Women's Day' i.e. to break the bias. It is impossible to bring industry experts, innovators and advanced tech experts under one roof and therefore transforming the setup into a hybrid event is essential. This event is exceptionally well defined in different progressive categories. Expected goals, achievement rewards and participation guidelines are well defined. Event announcements include the logos of supporters to enhance sponsorship opportunities. Announcement of hashtags, videos and links of social media pages are given equal importance.
Virtual Graduation for Melbourne Polytechnic
7 December 2021
At – United Co. 425 Smith Street, Fitzroy
In order to let all students enjoy their 10 seconds of fame, Melbourne Polytechnic hosted a Virtual Graduation on the 7th of December 2021. The event was hosted at United Co. utilising our meeting spaces with high-speed internet connection in collaboration with our technology partner NextgenAV and event management company Fruitbowl Productions.
Why you should host your next Hybrid Event in Melbourne at United Co.
Location
A good location is easy to reach for both organisers, speakers as well as guests. Pick a location that is easy to reach by public transport, has access to shops, cafes and restaurants and if necessary hotels nearby.
Warm and Welcoming Environment
United Co. provides a warm and welcoming environment for meetings and events. Our heritage building has been carefully restored and purposely designed to let you enjoy a work-life. No matter if you are here as a guest or as a member, our team will be here to support you throughout the workday and help you make your event a success.
Audio Visual Equipment
United Co. offers advanced AV equipment in every meeting room and event space. Our team is available to help you connect your devices. For larger hybrid and virtual events our team can help you coordinate equipment hire and United Co. and arrange tech support if required.
Catering
Our in-house licenced café Eight Grains specialises in healthy and fresh modern Australian cuisine. Our team will ensure your crew and guest stay nourished throughout your event. Ask our event specialists for the current catering menu.
Reach out for more information
Turn your next event into a hybrid event in Melbourne and reach a greater audience with a bespoke and memorable experience hosted at United Co.
Our Hybrid Event Venue is suitable for a multitude of event types such as product launches, training programs, seminars, conferences, annual general meetings, award ceremonies, town halls and more.
Enquire now for more information or to get a quote.