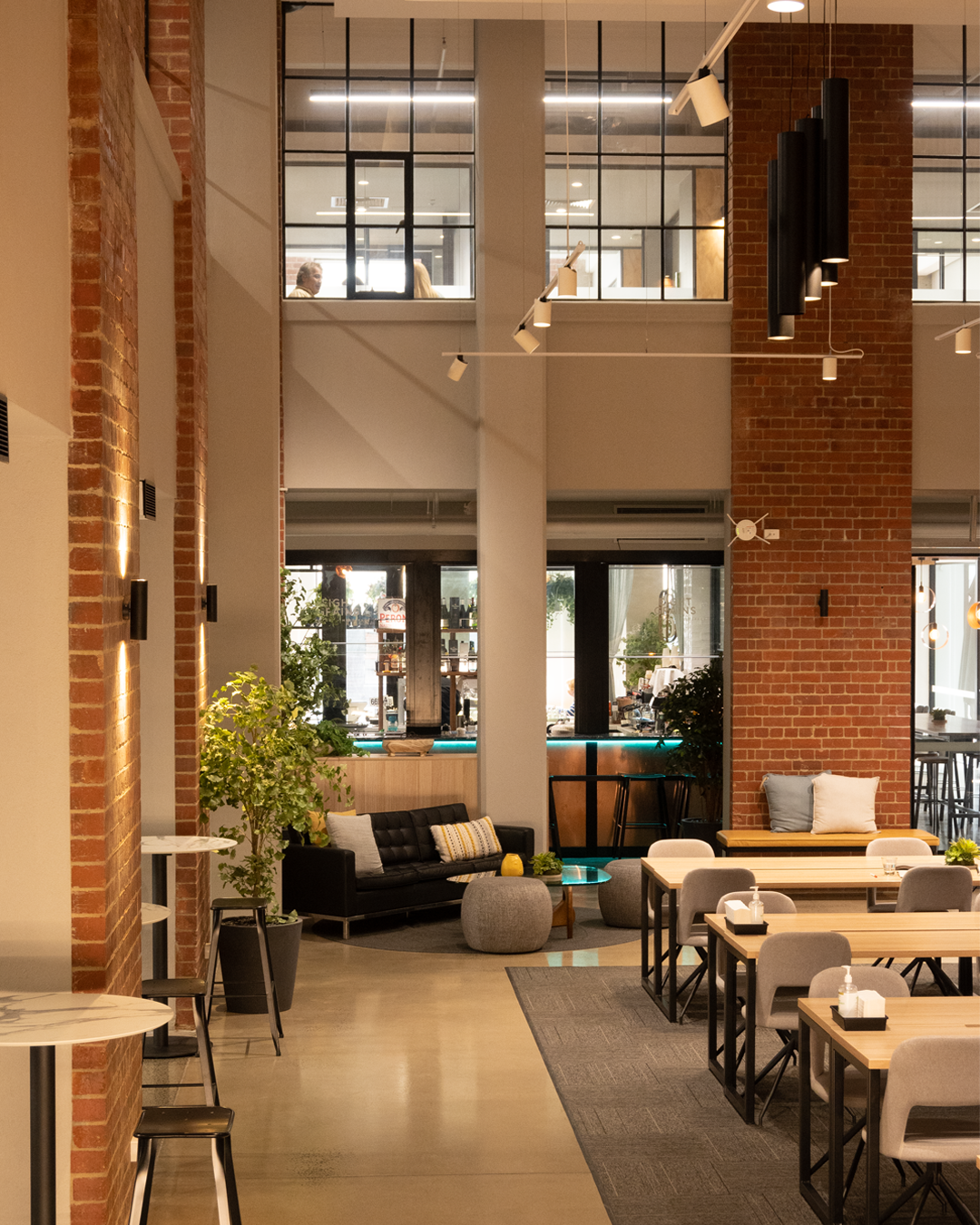 What is Coworking?
Coworking is quickly becoming the most effective way for your team members to collaborate and network within a shared workspace. As the work landscape has changed for the better, it is likely to remain a permanent re-adjustment for companies looking to work efficiently and innovativley. Coworking as a term, can be defined as members or individuals who use a shared environment and share equipment, office space, utilities, ideas and knowledge. Coworking spaces for businesses can create a supportive and collaborative community where the members can exchange skills, ideas and resources in the shared workspace.
What are the main benefits of Coworking?
In today's ever evolving work environment coworking offers multiple benefits. The main being cost effectiveness for business owners, as you really only pay for the resources you use. Flexibility and work-life balance can allow for better choice and can reduce burnout. Learning opportunities come with the increased capability of networking within a shared workspace, leading to potential new business partnerships. Having access to a professional workspace means you can have access to a well-equipped workspace with amenities such as high-speed internet, office equipment, and meeting rooms. This can be particularly beneficial if you work from home or need a change of environment from traditional office settings. 
Who benefits from a coworking space?
Coworking spaces can be used by a variety of individuals and organizations. Diversity can be celebrated through the benefits of networking within this type of work environment. Coworking has always been popular with freelancers, entrepreneurs, remote workers, startups, contractors, and small businesses, but is also gaining popularity with medium size businesses and larger enterprises. Coworking is particularly beneficial to businesses in industries, where collaboration and networking are essential for success. Coworking spaces offer a flexible and cost effective alternative to traditional office space allowing members to access high quality facilities without the commitment and expense of a long-term lease. Coworking also provides a sense of community and social connection for those who may otherwise be isolated while working remotely.
Different types of coworking spaces can suit an organization's needs, depending on the  requirements of that organization.  In the last 10 years coworking spaces have evolved. They are now providing flexible workspaces that allow businesses of any size to scale quickly or access high quality, turn-key office space short or long term. 
Coworking space for Remote Workers 
For remote workers, many will work from home or remote locations. Coworking for remote workers can provide a professional and communal aspect for those who don't want to be isolated during their work day. 
Coworking space for Freelancers
Freelancers who work remotely but want a professional work environment can make use  of coworking spaces. Those who may get distracted easily from working from home and require structure setting to get work done can majorly benefit from shared workspace.
Coworking space for Creatives
Coworking spaces are commonly used by creatives in the industry. Varying from artists, writers, and designers who may want to work in a like minded community with others can benefit from networking and idea sharing through the shared workspace.
Coworking space for Solopreneurs
Solopreneurs can benefit from coworking who are launching a new business and can avail of the space. Coworking spaces offer professional meeting spaces that solopreneurs can access on demand to meet with clients, network with other like minded professionals and benefit from the support and resources that a coworking community allows.
Coworking space for startups
Start ups often powered by VC funding need a flexible workspace solution that is scalable. To start-up having access to a cost effective coworking space during the initial stages and having the ability to move in an office space and expand the workspace as the organization grows is essential. Coworking space offers an all inclusive workspace solution, which means you can focus on scaling your business instead of paying electricity bills and fixing the internet connection. Coworking spaces often offer high-end amenities and perks that help your startup attract and retain talent.   
Coworking Space for Hybrid businesses
Hybrid working offers fully serviced office space that businesses can make use of. Members can benefit from fully-furnished workspaces and office facilities. Businesses don't have to worry about the costs of office supplies, amenities, and  managing the office. 
Coworking space for Small to medium size Businesses
Small businesses that have limited resources or may just be starting out can benefit from the flexibility and shared resources provided by coworking spaces. As other like-minded businesses may be in similar positions, there are serious learning opportunities at play within these shared work environments. By organizations ingraining themselves into coworking spaces, they can help these organizations grow and thrive. Taking a few dedicated desks in a coworking space is a cost effective solution for a small business. As your business grows you will be able to get a small office space without the expense of costly fit-outs and the drawbacks of lengthy leases. Business owners will be able to network and collaborate within a coworking space. 
Employees working in small businesses can often feel isolated as they do not have a large team to connect with and limited access to networking opportunities. Being in a coworking space can provide your employees a sense of community.
Coworking for large enterprises
High quality office space with flexible terms such as part time or full time memberships allows business owners to make the most of the coworking model. Larger enterprises looking for a more agile and collaborative environment can make use of coworking space. Larger organizations often access coworking space for overflow, project space, to expand business in new territories or emergency workspace. 
What types of coworking spaces are available?
Depending on the specific needs of members, they may make use of unique features and benefits of these types of coworking spaces. In a coworking space, people may rent a desk, private office or meeting room and share amenities such as internet access, printer's kitchen and common areas like lounges or event spaces. Coworking spaces are designed to foster a sense of community and provide a professional environment that is conducive to productivity, creativity and collaboration.
Hot Desking
Hot desking is where employees do not have dedicated desks, but instead share work stations on a first come first serve basis. This can offer flexibility as employees are not tied to a specific desk and can move around the office as needed.  
Open Workspace
Open coworking spaces are by far the most traditional spaces, consisting of a shared work area with desks and chairs and other amenities. These spaces provide structure, but are purely for functionality purposes. 
Office Space
Casual office spaces are often used by creative agencies, startups, and other businesses that prioritize a laid-back atmosphere and a focus on collaboration. The flexibility that comes with casual offices means you can book a consulting room for an hour or rent an office for a day, which helps companies that do not have the resources for lease commitment. Office space can be accessed for a day, week, month, year or longer. There are different types of office spaces within a coworking space. These may include private offices for small teams or office suits for larger enterprises. Casual offices may be used for 1-2 person offices, breakout rooms for brainstorming sessions, virtual offices and so on. 
Private/Fully-Serviced Office Space
Private coworking spaces offer enclosed offices or dedicated workstations within a shared space. These spaces are ideal for teams and individuals who require privacy, but would still like the benefits of a coworking environment.
Co Working at United Co.
In short, coworking spaces offer more than just a 'desk' . By coworking at United Co. you can be integrated into network opportunities, access to resources and support and can create a sense of belonging and community. These benefits are valuable for entrepreneurs and remote workers. They also offer flexibility and opportunity to work in a collaborative and social space which can help boost productivity and creativity. Coworking spaces are not only for startups and freelancers. While these types of workers are often drawn to coworking spaces, anyone can use them including remote teams, small businesses, entrepreneurs and even larger companies who may have contractors. Coworking spaces are designed to provide a collaborative and flexible working environment and often offer a variety of amenities. People can find a way to connect with other professionals, build their network and gain access to resources and expertise they may not have had otherwise. Overall, coworking can be a valuable option for individuals and businesses alike, looking for a cost effective, flexible, and collaborative workspace. If you would like to know more about coworking at United Co. please get in touch today.