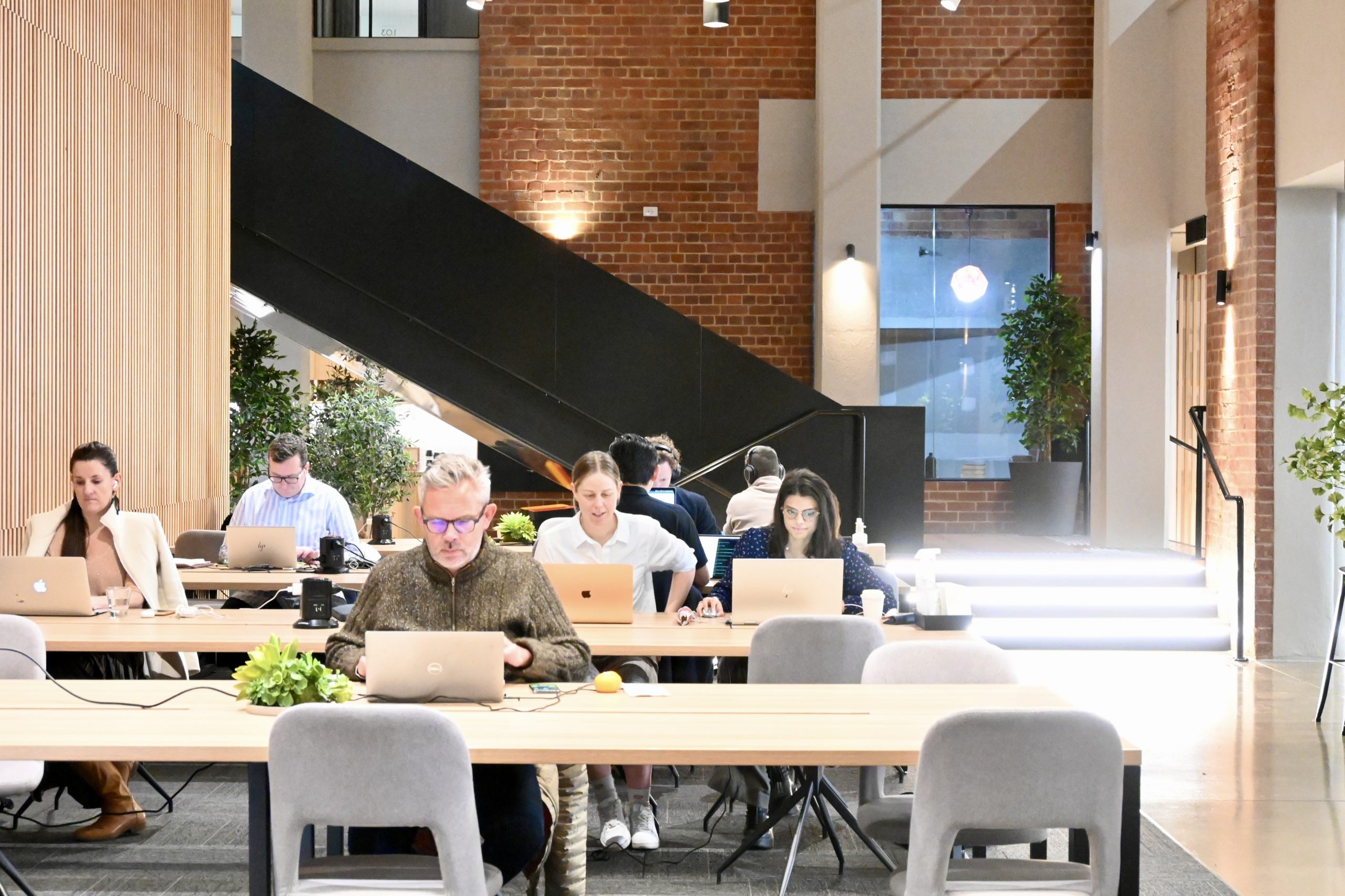 More and more businesses opt to set up a coworking office space rather than leasing a stand-alone office space that they need to fit out and manage themselves. 
What is a Coworking Office Space? 
A coworking office space refers to a private office space in a shared workspace. Businesses occupy their own lockable office while sharing other amenities such as kitchens, breakout spaces and meeting rooms. Contrary to a conventional office lease an office space in a shared space is more flexible and offers networking opportunities and opportunities for collaboration with other businesses. 
Click here to learn more about Coworking Space
Types of businesses in a coworking office space
Melbourne has many coworking spaces, shared workspaces and incubators, each catering to its own niche. There is a wide variety of small and large shared workspaces. Some spaces are industry specific others cater to a wide range of businesses. 
There is a common misconception that coworking is only for small freelancers, entrepreneurs and start-ups. As the coworking industry grew and matured, operators started providing more and more lockable office spaces, as well as hot desks and dedicated desks in the communal desk space popular with freelancers and remote workers the concept caught on with larger businesses too. Nowadays even large corporations make use of coworking spaces, often taking up office space for projects or overflow. 
The rise of hybrid work changes office requirements. Coworking office space provides many benefits for hybrid businesses. Because a coworking office is managed, you won't have to worry about the amenities and services being provided and maintained for your team. Businesses are able to provide their teams with a great workspace geared for collaboration while keeping expenses low and only paying for what they use. When the team grows or starts using the office more often, you are able to adjust your coworking membership and expand your office space. 
Read More about the benefits of hybrid work for employees and employers
Why Should You Use Coworking?
Each business is unique and the reasons why businesses choose a coworking office over an office lease are diverse. For many businesses, coworking provides a cheaper and more beneficial alternative. Coworking was initially popular with freelancers and start-ups, but more and more established businesses are moving to coworking office space.
Read our latest blog: Are coworking spaces only for startups and freelancers?
Save cost
There are many costs associated with running an office other than the rent. There are outgoings, council rates, water and electricity bills, it and internet costs, security, cleaning, maintenance and other services that are required the keep the office going. Employees expect a quality fit out that supports their work as well as their personal wellbeing. A window and fruit water in the kitchen are no longer enough to attract and retain talented team members. 
A coworking office space provides a high quality inclusive solution. All the day to day office management is taken care of, so you can focus on running and growing your business. 
Flexibility
There are many challenges we face in business and it can often be hard to predict where your business will be in 12 months let also 3 or 5 years from now. Getting a coworking office space provides you with the flexibility to expand your office space as your business grows, take short term project space and make use of ad hoc workspaces such as meeting and boardrooms and even day offices. You will have to options take a flexible month-to-month membership or commit to a shorter term. Not having to make long term predictions about your business growth and having the flexibility to adjust your workspace as required will give you peace of mind and help you save costs while you are setting up and growing your business. 
Connection
People who feel connected at work are happier, less stressed and more engaged in their work. Some studies report that connections not only support mental health but also physical health. Connections led to increased productivity and more loyal employees. 
If you are a solopreneur or small business you may sometimes feel lonely in your pursuit of success. A coworking space will help you connect with others who are or have been on the same journey. In a small business, your team member may feel isolated as well. A coworking space offers them opportunities to connect with people in a diverse range of industries they otherwise wouldn't meet. Most coworking spaces will have a community manager who helps you form those connections. Most providers will organize regular professional and social events to help you create a broader professional network. 
Wellbeing
Not only do coworking spaces provide quality office space. Often you will find many other perks that come with your coworking office space. Many coworking spaces provide a wide array of break out spaces to collaborate or concentrate, kitchens with free coffee, tea and snacks, cafes with breakfast and lunch offerings, spaces for exercise yoga and meditation. A quality fitout with ergonomic furniture and natural light will support you and help you make the most of your workday. 
What is United Co?
United Co is a coworking space where members regardless of the size of their business are able to access world-class office space. Located at 425 Smith Street Fitzroy on Melbourne's coolest street in the world United Co. offers a modern and all-inclusive business hub with a range of flexible workspace options to suit your needs whether casual, short term or long-term. 
Guests can access ad hoc workspace with coworking day passes and a range of meeting spaces that you can conveniently book online. Coworking, meeting and breakout spaces are purpose-built and designed, tastefully decorated and thoroughly maintained. Providing you will a boutique and welcoming environment to spend your workday.
Why choose United Co for your office needs?
Members can sign up for part-time as well as full-time coworking memberships. If you like to set up a more permanent workspace you can sign up for a dedicated desk or coworking office space with 24/7 access. Lockable offices provide you with privacy while still having access to a range of shared amenities. When you feel like it you will be able to break out of your office for a change of scenery or to connect with other members.
Enterprise solutions at United Co. provide your business with a turn-key office space with all the facilities you would expect at a leased office without the hassle.
The team at United Co. is available to support you during your workday. Whether it may be receptions and concierge services, assisting in arranging that important meeting or IT support. Our team prides itself on providing a high level of customer service.
United Co. members have access to a range of amenities to support their wellbeing at work and outside the office. Offices are designed to maximize natural light and furnished with electric sit-to-stand desks and certified ergonomic task chairs. Members have access to secure bicycle storage, showers and end of trip facilities. Included in your members is access to a wellness suite with an on-site gym, quiet room, prayer room and parents facility. If you are looking for fresh air you will be able to grab a coffee and take a break on the rooftop garden which provides spectacular views across the city and Melbourne CBD.
We have a diverse and vibrant business community. Members work in different industries, and range from freelancers and remote workers, to entrepreneurs and start-ups, small-medium size businesses as well as departments of larger organizations. If you are interested in finding out more about United Co, please reach out to our team. Our flexible workspace consultants are always available to advise you on the options most suited to your needs.