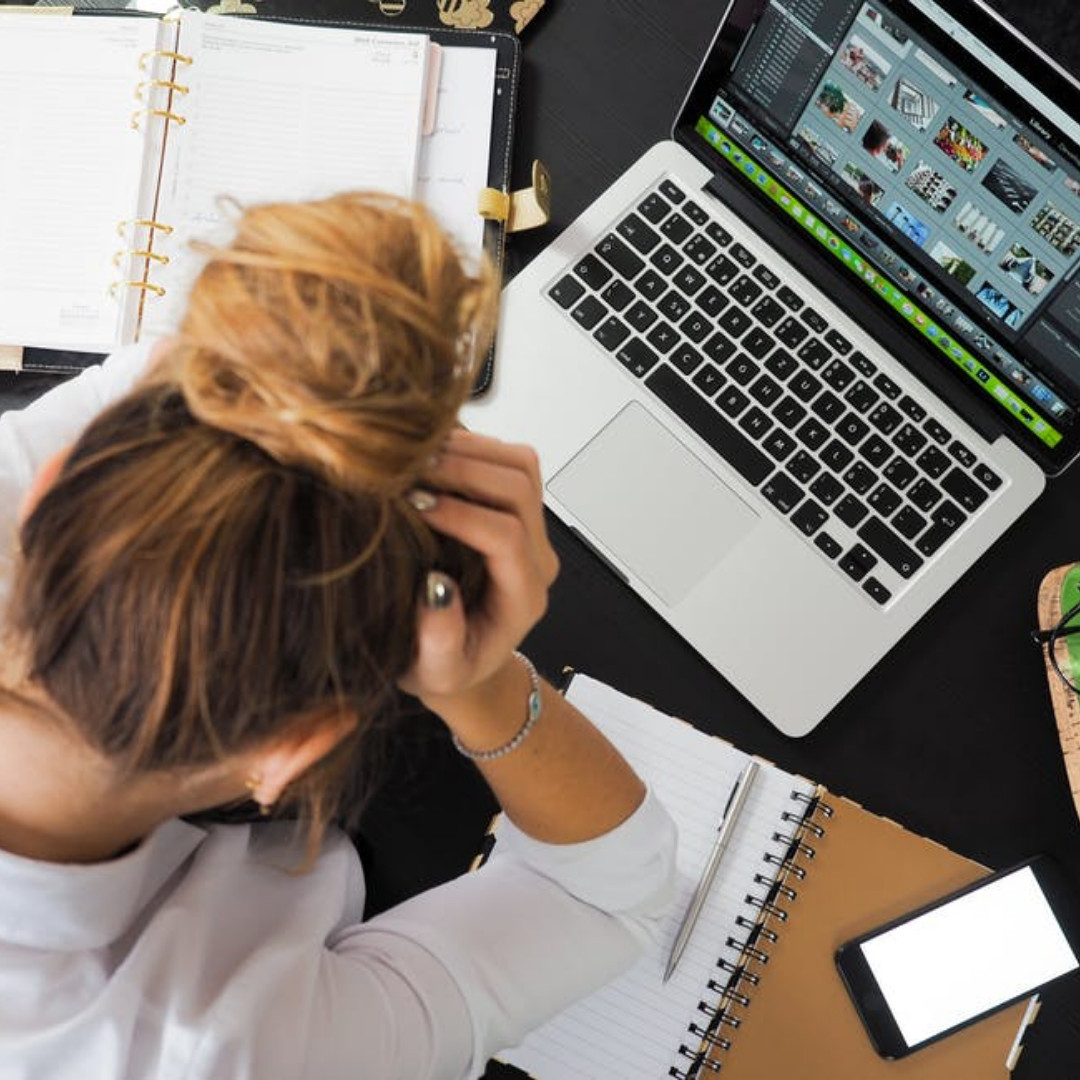 Current situation regarding mental wellbeing in workplaces
These days, everyone's greatest concern is mental wellness in their companies. Even though our knowledge of risk that relates to poor mental health at work is expanding, it's still important to aware the fundamental factors to ensure a healthy workplace for everyone.
Mental disorders account for 13.3% of Australia's total burden of disease and injury and are estimated to cost the Australian economy $20 billion annually in lost productivity and labour participation.
Supporting mental health at work is now a must, rather than just an awareness. Creating wellness solutions to help your employees thrive is the first step for employers, and in the same voice, staff can urge their employers to support with mental health resources at work. These resources can be provided to employees in so many different ways, from health care amenities and wellness-based environments to, more importantly, creating a sense of community. 
According to statistics from Forbes 2020, work stress such as long hours, job strains, and unhealthy working environments is the leading cause of suicide. This makes suicide a global health crisis and the 10th leading cause of death in the world. 
R U Ok? Day 2022 in Australia
R U OK? inspire and empower Australians and everyone around the world to meaningfully connect with people around them and start a conversation with those in their world who may be struggling with problems in life. 
When and what is R U Ok? Day?
Being held on the second Thursday of every September, R U OK? is a harm prevention charity that encourages people to stay connected and have conversations that can help others through difficult times in their lives. Their program focuses on building the tips, personal skills in motivation, confidence, awareness and skills of the help-giver – the person who can have a meaningful conversation with someone who is struggling with life. Whether it is online or in person, just save a moment of your day and talk to someone you care about, being good company and bringing positive energy into the conversation would definitely help to brighten up their day.
R U Ok? Day highlights the importance of mental health in Australia
R U OK? contributes to suicide prevention efforts by encouraging people to invest more time in their personal relationships and building the capacity of informal support networks – friends, family and colleagues – to be alert to those around them, have a conversation if they identify signs of distress, depression, self harm or difficulty and connect someone to appropriate support, lead the initiatives in reaching out long before they're in risk.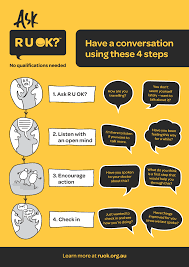 The importance of mental wellbeing in the workplace 
When it comes to encouraging employee wellbeing at work, developing proactive alternatives that assist people in daily improving and maintaining their mental health is essential to fostering employee success. Mental illness is often neglected as many of us can not identify our own mental health issues, assuming that we are mentally okay.
Workplaces that focus on promoting health and wellness enjoy an overall of 25.3% reduction in employees taking sick leave. 
Focusing on employees' mental health and well-being in an organisation is crucial in reducing stress and increasing creativity and productivity in work performance. Working in a co-working space helps connect people from all different industries, creating a great opportunity for them to expand their social network and get connected with new faces. 
Talking about mental health is no longer taboo. Because it enables people to handle difficulties and failures in their life, both at work and at home, and understand that having strong mental health is important. A team that has little to no stress at work is more adaptable when roles and responsibilities are amended, not to mention overcoming challenging obstacles during training for changes. Employees' self resilience is increased, stress is better managed, and their physical performance at work is significantly increased. In the end, it enables people to realize their full champions' potential.
With all these achievements, it is crucial that the topic of workplace mental health be raised. It is important to provide safe working environments that encourage employees at all levels to interact without fear of retaliation.
Co-working spaces are redefining wellness and wellbeing 
Coworking space is an office space in which different companies and industries share a working environment. A space for coworking is appealing to different industries, small businesses, new startups, freelancers, independent contractors, digital nomads, and frequent business travelers. Coworking spaces can be found in CBD, city fringe and suburban  areas. The recent working from home and working close to home trends have seen many coworking spaces in metro Melbourne filled with remote and hybrid workers.
Fortunately, the growth in coworking spaces contributes greatly to the change in working environments of office employees all around Melbourne. 
Moving to mentally friendly workspaces
It is reported that employees' creativity and innovation surged by 52% when they are feeling mentally and physically happy. And to be able to deliver that requires a healthy working environments that meets all the standards. 
Health-beneficial eating options 
While one in every five Australian office workers is having lunch at their desk, due to the hurried nature of employment, it often means that they are choosing unhealthy diets that are high in processed ingredients, low in nutrition, and mostly fast food.
Co-working spaces are assisting in easing this difficulty by offering convenient and healthy on-site brunch options. Being an in-house coffee brunch shop typically ensures that quality meals are easily accessible in the immediate area, and for some, they can even be delivered to our own desks. Communal shared kitchen spaces can be equipped with fresh fruits and biscuits to ensure you can recharge your energy throughout the day. 
Wellness based environments
Most coworking environments come with a range of benefits accessible to members. Some spaces are equipped with a gym and wellness studio and program, entertainment facilities, kitchen amenities, breakout spaces for informal meetings or to hang out. Members have full access to all the benefits once signed up for their coworking memberships. 
Modern offices, hot-desks and dedicated desks are often equipped with innovative and ergonomic furnishings. Ergonomic chairs can improve back pain by promoting a sitting posture that allows proper alignment of the shoulders, hips, and spine. This reduces abnormal strain on the body and prevents harmful positions such as slouching and forward head. These help employees to be exposed to a stress -free working environment and employees are provided with the best tools to further enhance health, productivity and motivation. 
Wellness based community 
A coworking space isn't just an open office area, it is an environment that creates a professional community where teams can be exposed to networking opportunities with people from different businesses. Community managers are there to naturally facilitate connections between businesses, helping you to broaden your network with like-minded professionals and create opportunities for collaboration. 
Community management will inform members of the community with news, services, tools and important updates of the week and promote events. They are in charge of managing member gatherings to create a collaborative coworking environment that ensures everyone makes the most of their coworking memberships and explores all important factors of coworking culture. 
At United Co.'s wellness-focused coworking space, we embrace a work-life balance 
Our Mission
We aim to empower and delight people at work through inspired spaces that embrace a healthy working lifestyle. Experience a better workspace.
What can United Co. do for R U Ok? day
On the theme of R U Ok? Day this 8th of September 2022, we acknowledge mental wellbeing in our workplace and hosted a Community Breakfast for our members to gather and grab some delicious breakfast treats. This is a great chance for members to take a break, gather as a community and check in with one another, sharing thoughts, laughs and support.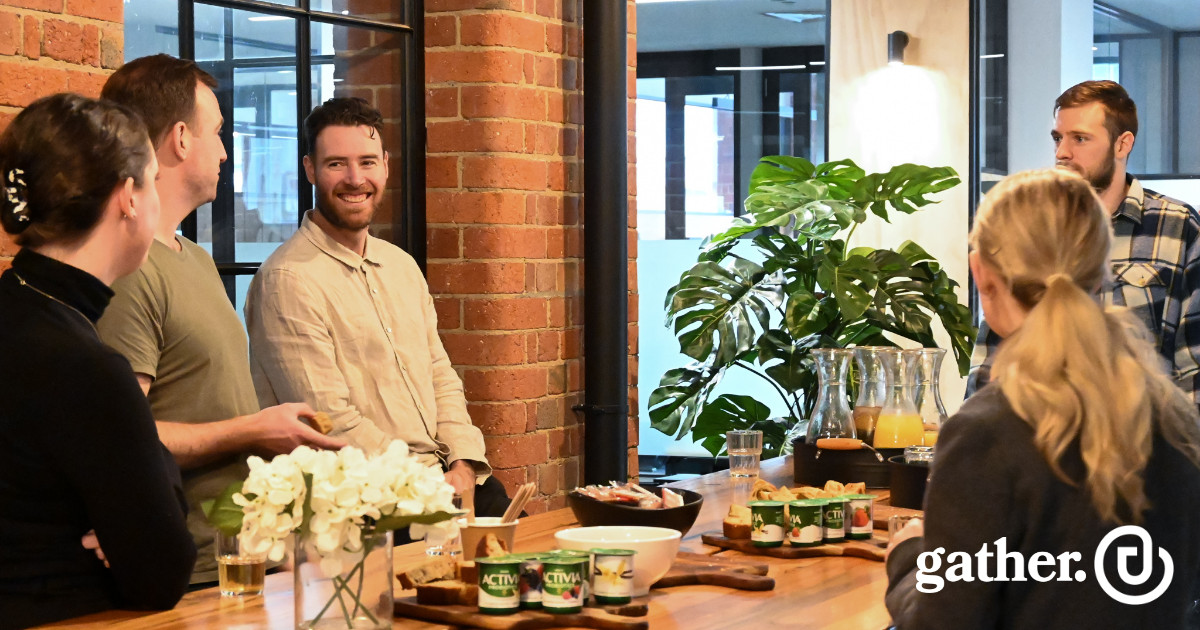 How can we be a part of an emotionally friendly workplace?
We encourage our members to participate in social events and activities because we understand the importance of physical and mental health and safety. As a part of our wellbeing culture, R U Ok? Day themed Community Breakfast event is being promoted throughout United Co. social media platforms and member's newsletter.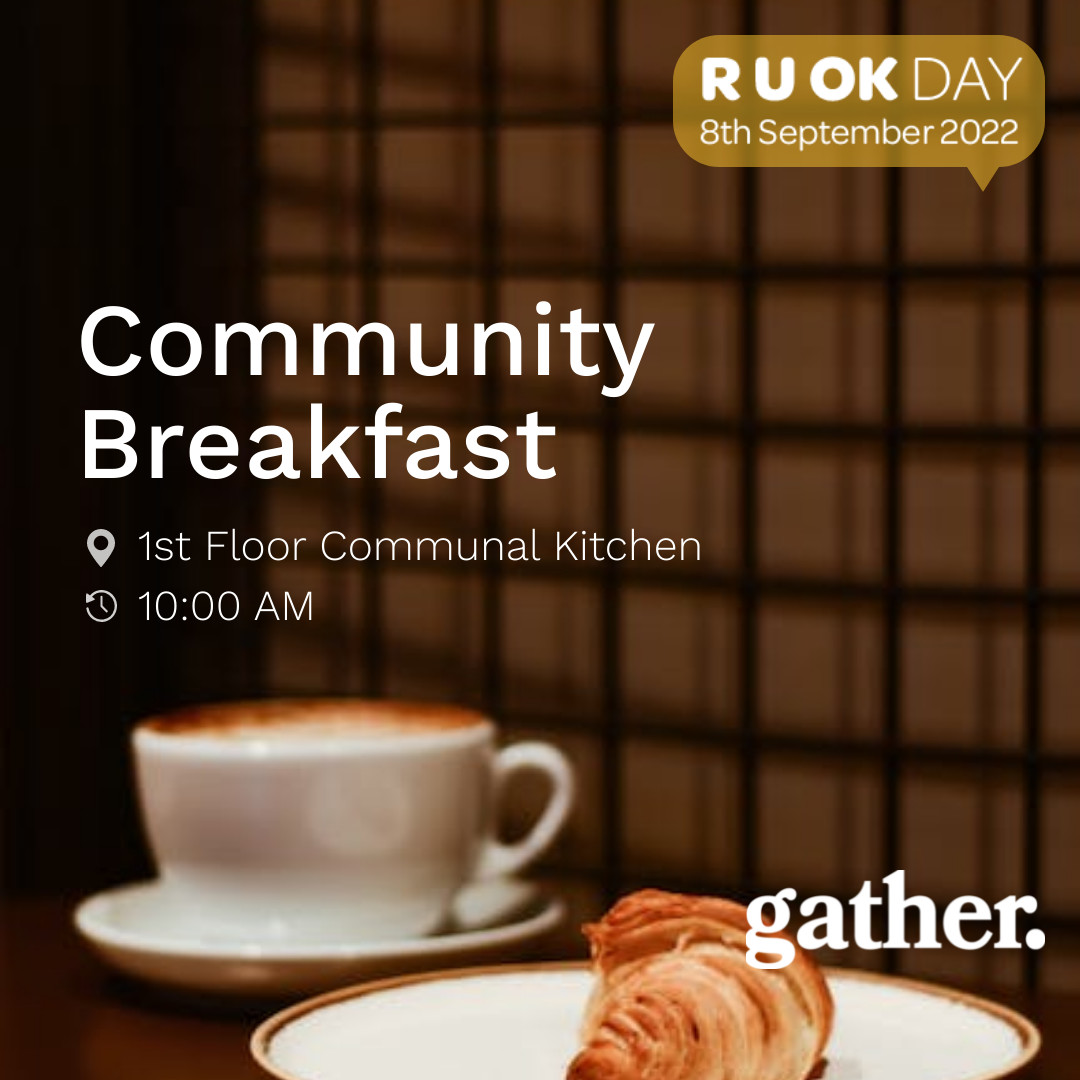 Reach out to us if you have any questions for United Co.'s team about our memberships and services, or simply for a tour ofthe offices and coworking space. We look forward to welcoming you at United Co.